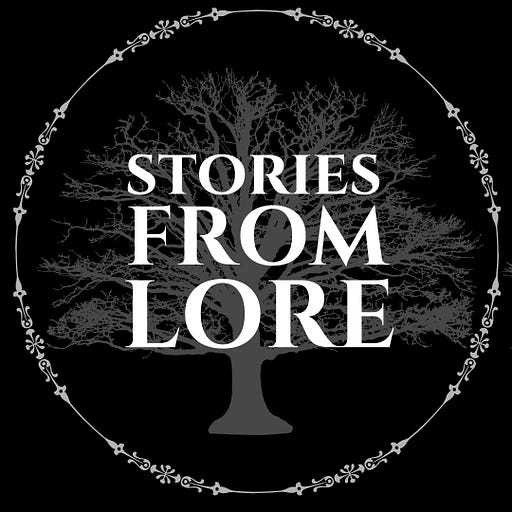 Jan 23, 2021 • 29M
Season 2 Episode 1 : 'A Country For Old Hags' - Cailleach Folklore
Merry Met virtual traveller and welcome to Stories From Lore. A monthly podcast that invites you to 'Rewild Yourself Through Story,' by exploring nature, folklore and the stories it inspires. My name is Dawn Nelson and I am an author and professional storyteller.
Season 2 is here and from this season on episodes will be released monthly and on the theme voted for by my wonderful patrons. This month you lovely lot chose 'A Country For Old Hags,' and so the winter witch, creatrix and woman of the land the Cailleach is the subject of January's episode. I look at her connection to the land and the animals on it and tell you the story from lore, 'The Green Lady', a traditional tale from Hertfordshire.
In the extended version of this episode, you can hear more about the Cailleach's connection to water, a hilarious if not risqué diversion technique applied by a French Sailor when encountering the giantess of winter and where the Cailleach sits in the pantheon of Celtic goddesses. Hop on over to my Patreon to join the Ranger tier to listen and hear a second story from lore, 'The Marriage Of Sir Gawain.'
To 'Rewild Yourself Through Story', join me on Patreon for digital zines, audio stories, book reviews, digital downloads, folklore and extended episodes of the podcast.
For more stories woven with folklore and the old ways you can find me via the following channels:
www.facebook.com/ddstoryteller
www.instagram.com/dd_storyeller
Join the Stories From Lore group for Facebook lives, behind the scenes, folklore, music and books.
www.facebook.com/groups/storiesfromlore
Music Attribution:
Midnight Tale by Kevin MacLeod (incompetech.com) licensed under Creative Commons: Attribution 4.0 license http://creativecommons.org/licenses/by/4.0/
Sound Effects via www.orangefreesounds.com
Episode Resources:
Blackie, Sharon (2019) If Women rose Rooted, September Publishing
Patterson, Rachel (2016) Pagan Portals: The Cailleach, Moon Books.
Westwood, Jennifer (1985) Albion: A legendary Guide.
Westwood, Jennifer & Kingshill, Sophia (2015) The Fabled Coast: Legends & traditions from around the shores of Britain & Ireland Hardcover, 
Simpson, Jacqueline & Roud, Stephen, (2000) A Dictionary Of English Folklore, Oxford University Press. 
Schneidau, Lisa, (2020) Woodland Folk Tales of Britain & Ireland, The History Press.