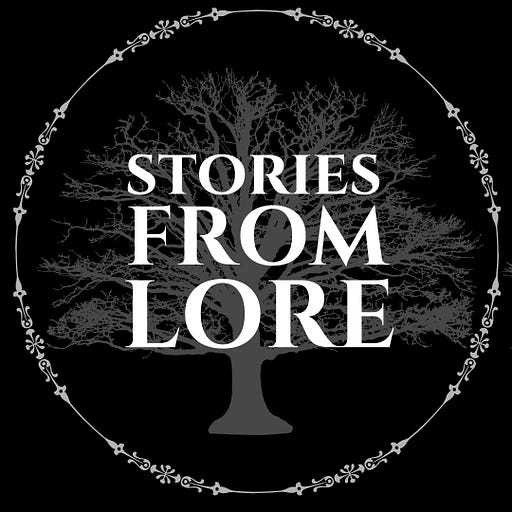 Feb 27, 2021 • 28M
Season 2 Episode 2: 'The Dead Do Tell Tales' - Folklore of The Dead
Merry Met virtual traveller and welcome to Stories From Lore. A monthly podcast that invites you to 'Rewild Yourself Through Story,' by exploring nature, folklore and the stories it inspires. My name is Dawn Nelson and I am an author and professional storyteller.
This month patrons chose the theme of 'The Dead Do Tell Tales' and so for this episode I will be looking at the spectre of death and the folklore surrounding the psychopomps and harbingers of death. The story from lore for this episode is 'The Singing Bone.'
Due to the nature of the subject covered in this podcast I would recommend this as adult listening and that you should listen through first before listening with younger members of your household. 
In the extended version of this episode, you can hear more about the mythology of death, where you go once you're gone and some of the ways different cultures celebrate and pay their respect to their dead. The second story from lore is my original story, 'The Legend Of The Banshee.'
To 'Rewild Yourself Through Story', join me on Patreon for digital zines, audio stories, book reviews, digital downloads, folklore and extended episodes of the podcast.
For more stories woven with folklore and the old ways you can find me via the following channels:
www.facebook.com/ddstoryteller
www.instagram.com/dd_storyeller
Join the Stories From Lore group for Facebook lives, behind the scenes, folklore, music and books.
www.facebook.com/groups/storiesfromlore
Music Attribution:
Midnight Tale by Kevin MacLeod (incompetech.com) licensed under Creative Commons: Attribution 4.0 license http://creativecommons.org/licenses/by/4.0/
Sound Effects via www.orangefreesounds.com
Episode Resources:
Ash et al, (1973)  Folklore Myths & Legends Of Britain, Reader's Digest. London
Dent Susie, (2018) Brewers Dictionary Of Phrase & Fable, 20th Edition, Brewers, Edinburgh.
Doughty, Caitlin, (2017) From Here To Eternity, Weidenfeld & Nicholson
Lecouteux, (2019) The Pagan Book Of The Dead, Inner Traditions, Vermont.
How well do know your death omens? : https://folklorethursday.com/regional-folklore/death-omens-well-know/
National Geographic , 10 Things To Know about The Day Of The Dead. https://www.nationalgeographic.co.uk/travel-and-adventure/top-10-things-know-about-day-dead
Day Of The Dead In Mexico Explained https://www.journeymexico.com/blog/day-of-the-dead-in-mexico