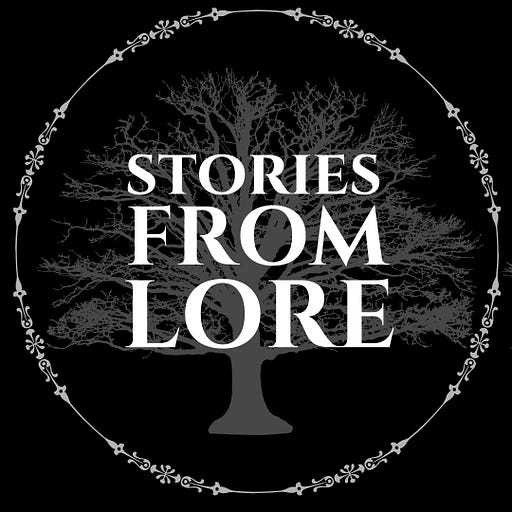 Mar 26, 2021 • 26M
Season 2 Episode 3: Lights Above The Marshes - Folklore of Carrs & Marshes
Merry Met virtual traveller and welcome to Stories From Lore. A monthly podcast that invites you to 'Rewild Yourself Through Story,' by exploring nature, folklore and the stories it inspires. My name is Dawn Nelson and I am an author and professional storyteller.
This month Patreons chose the theme of 'Lights above The Marshes' and so for this episode I will be looking at the marshes, fens and Carrs of Britain and the folklore surrounding the wee beasties that live there. The story from lore for this episode is 'The Tiddy Mun.'
In the extended version of this episode available via my Patreon, I will be looking at Lantern Men, Toad Men and the plantlore of the fens, as well as telling the story of 'Long Tom & The Dead Hand.'
There are some dark folkloric characters explored in this podcast and so, as always,  I would recommend that you should listen through first before listening with younger members of your household. 
To 'Rewild Yourself Through Story', join me on Patreon for digital zines, audio stories, book reviews, digital downloads, folklore and extended episodes of the podcast.
For more stories woven with folklore and the old ways you can find me via the following channels:
www.facebook.com/ddstoryteller
www.instagram.com/dd_storyeller
Join the Stories From Lore group for Facebook lives, behind the scenes, folklore, music and books.
www.facebook.com/groups/storiesfromlore
Music Attribution:
Midnight Tale by Kevin MacLeod (incompetech.com) licensed under Creative Commons: Attribution 4.0 license http://creativecommons.org/licenses/by/4.0/
Sound Effects via www.orangefreesounds.com
Episode Resources
Books
Crossley- Holland, Kevin, (1997) The Old Stories: Folk Tales From East Anglia And The Fen Country, Colt Books. 
Pryor, Francis (2019) The Fens: Discovering England's Ancient Depths, Head of Zeus.
Marvellous Maps (2020) Craftily Conjured Great British Folklore and Superstition Map
O'Neill, Susanna, (2012) Folklore of Lincolnshire, The History Press
Simpson, Jacqueline & Roud, Stephen, (2000) A Dictionary Of English Folklore, Oxford University Press. 
Westwood, Jennifer (1985) Albion: A legendary Guide.
Website Articles: 
http://www.law-mag.com/archive/fen-folk/
https://www.cambridge-news.co.uk/news/cambridge-news/fen-tiger-sightings-around-cambridgeshire-17354663