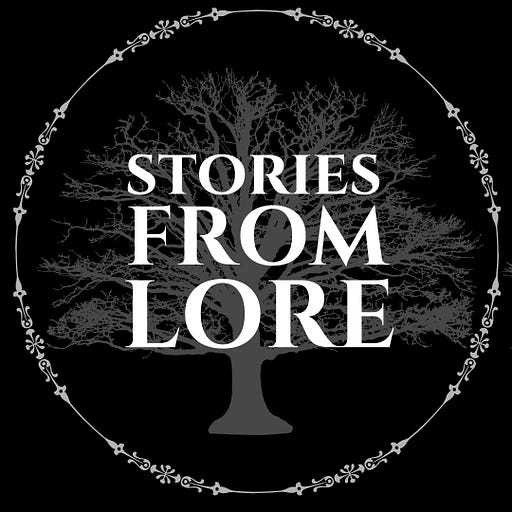 Apr 24, 2021 • 20M
Season 2 Episode 4: Sirens Of The Lakes' - Folklore of Lakes
Merry Met virtual traveller and welcome to Stories From Lore. A monthly podcast that invites you to 'Rewild Yourself Through Story,' by exploring nature, folklore and the stories it inspires. My name is Dawn Nelson and I am an author and professional storyteller.
This month Patreons chose the theme of 'Sirens Of The Lakes'. There were so many pieces of folklore I came across, during my research, to do with the creatures and beings that dwell in lakes, that I cannot hope to cover them all, that would be an epic episode and so for this episode I am focussing on one that came up most frequently: Lakes Wives. The story from lore for this episode is my original tale which explores the origins of Jenny Greenteeth. 
In the extended version of this episode available via my Patreon, I will be looking at another very famous being, the water horses of the lochs, lakes, rivers and pools of Europe and the UK and the story from lore is 'The Laird Of Morphie.'
There are some dark folkloric characters explored in this podcast and so, as always,  I would recommend that you should listen through first before listening with younger members of your household. 
To 'Rewild Yourself Through Story', join me on Patreon for digital zines, audio stories, book reviews, digital downloads, folklore and extended episodes of the podcast.
For more stories woven with folklore and the old ways you can find me via the following channels:
www.facebook.com/ddstoryteller
www.instagram.com/dd_storyeller
Join the Stories From Lore group for Facebook lives, behind the scenes, folklore, music and books.
www.facebook.com/groups/storiesfromlore
Episode Resources:   Chainey, Dee & Winsham, Willow, (2021) Treasury Of Folklore: Seas & Rivers, Batsford.   Egerkrans, Johan (2017) Vaesen, B/Wahlstroms.   Gilchrist, Annie G. "Note on the 'Lady Drest in Green' and Other Fragments of Tragic Ballads and Folk-Tales Preserved amongst Children." Journal of the Folk-Song Society, vol. 6, no. 22, 1919, pp. 80–90. JSTOR, www.jstor.org/stable/4434067. Accessed 19 Apr. 2021.   Muir, Tom (1998) The Mermaid Bride and Other Orkney Folktales, The Orcadian Limited.   Vickery, Roy. "Lemna Minor and Jenny Greenteeth." Folklore, vol. 94, no. 2, 1983, pp. 247–250. JSTOR, www.jstor.org/stable/1260499. Accessed 19 Apr. 2021.   Westwood, Jennifer & Kingshill, Peter (1988) The Lore Of Scotland, Arrow Books.   Website Articles:   https://www.rabbies.com/en/blog/tizzie-whizie-legend-lake-district   http://www.orkneyjar.com/folklore/nokk.htm   https://www.historic-uk.com/CultureUK/The-Kelpie/   Music Attribution:   Midnight Tale by Kevin MacLeod (incompetech.com) licensed under Creative Commons: Attribution 4.0 license http://creativecommons.org/licenses/by/4.0/   Sound Effects via www.orangefreesounds.com