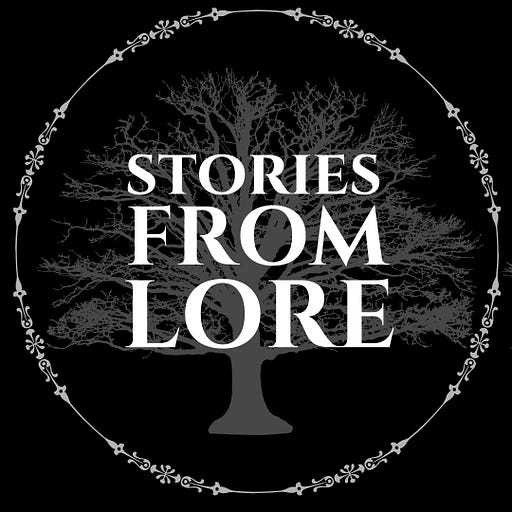 May 29, 2021 • 19M
Season 2 Episode 5: Folk From The Mines - Mining Folklore & Stories
Merry Met virtual traveller and welcome to Stories From Lore. A monthly podcast that invites you to 'Rewild Yourself Through Story,' by exploring nature, folklore and the stories it inspires. My name is Dawn Nelson and I am an author and professional storyteller.
This month patrons chose the theme of 'Folk From The Mines' and, so we're going underground to discover what lurks in the dark caves, mines and even sewers of Europe. In this episode I explore mining superstitions and the spirits and beings that may or may not help you in your endeavours. The story from lore for this episode is my version of 'The Seven Whistlers'.  
I will go on to explore mine guardians further in the extended version of this episode, which is available on my Patreon, and the second Story From Lore for patrons will be one of my original short stories - 'The Diamond Caverns'.
There are some dark folkloric characters explored in this podcast and so, as always,  I would recommend that you should listen through first before listening with younger members of your household. 
To 'Rewild Yourself Through Story', join me on Patreon for digital zines, audio stories, book reviews, digital downloads, folklore and extended episodes of the podcast.
For more stories woven with folklore and the old ways you can find me via the following channels:
www.facebook.com/ddstoryteller
www.instagram.com/dd_storyeller
Join the Stories From Lore group for Facebook lives, behind the scenes, folklore, music and books.
www.facebook.com/groups/storiesfromlore
References:
Davies, Lynn, Aspects Of Mining Folklore, Reprinted from Folk Life 9
Deane, Tony & Shaw, Tony (2009) Folklore of Cornwall, The History Press. 
Egerkrans, Johan (2017) Vaesen, B/Wahlstroms.
James, Ronald M. "Knockers, Knackers, and Ghosts: Immigrant Folklore in the Western Mines." Western Folklore, vol. 51, no. 2, 1992, pp. 153–177. JSTOR, www.jstor.org/stable/1499362. Accessed 28 May 2021.
McMahon, Brendan, (2015) A Wreck Upon The Ocean: Cornish Folklore in the Age of the Industrial Revolution, Evertype, Ireland
Roud, Steve (2008) London Lore: The Legends and Traditions of the World's Most Vibrant City, Arrow Books. 
Westwood, Jennifer & Kingshill, Peter (1988) The Lore Of Scotland, Arrow Books.
Websites:
https://pantheon.org/articles/c/cutty_soams.html
 Music Attribution:
 Midnight Tale by Kevin MacLeod (incompetech.com) licensed under Creative Commons: Attribution 4.0 license http://creativecommons.org/licenses/by/4.0/
Sound Effects via www.orangefreesounds.com