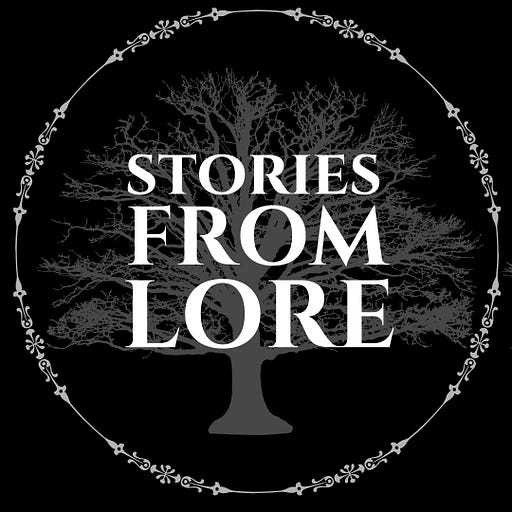 Jul 23, 2021 • 22M
Season 2 Episode 7: A Knock At The Door - Folklore Of The Front Door
Merry Met virtual traveller and welcome to Stories From Lore. A monthly podcast that invites you to 'Rewild Yourself Through Story,' by exploring nature, folklore and the stories it inspires. My name is Dawn Nelson and I am an author and professional storyteller.
For this episode patrons chose the theme of 'A Knock At The Door' and so for this episode we are looking at who might be knocking on your door, some famous door knockers and doors to the next life. 
The story from lore for this episode is 'Stingy Jack'.  I will go on to explore the folklore on your threshold in the form of Victorian legends and hidden doors in the extended version, which is available on my Patreon and the second Story From Lore for patrons will be my version of, 'Hilda Queen Of The Elves'.
This is the last episode in the second season of 'Stories From Lore' and I hope you've enjoyed it as much as I have putting the episodes together. I'll be back in October with Season 3 and over the summer I'll be giving patrons a sneak peak at the themes coming up.
There are some dark folkloric characters explored in this podcast and so, as always, I would recommend that you should listen through first before listening with younger members of your household. 
To 'Rewild Yourself Through Story', join me on Patreon for digital zines, audio stories, book reviews, digital downloads, folklore and extended episodes of the podcast.
For more stories woven with folklore and the old ways you can find me via the following channels:
www.facebook.com/ddstoryteller
www.instagram.com/dd_storyeller
Join the Stories From Lore group for behind the scenes, folklore, music and books.
Episode Resources:
Books
Russell et al (1973), Folklore. Myths & Legends Of Britain, Reader's Digest
Shuck Zine, Love Issue Matt Williw & Ada Nemesis available here:
https://www.etsy.com/uk/listing/939959711/shuck-issue-2-love-a-zine-about-norfolk?ref=shop_home_feat_2&bes=1
Websites:
https://www.history.com/news/halloween-trick-or-treating-origins
https://www.blackcountrymetalworks.co.uk/history-of-door-knockers
http://www.smuggling.co.uk/gazetteer_sw_13.html
Music Attribution:
Midnight Tale by Kevin MacLeod (incompetech.com) licensed under Creative Commons: Attribution 4.0 license http://creativecommons.org/licenses/by/4.0/
Sound Effects via www.orangefreesounds.com