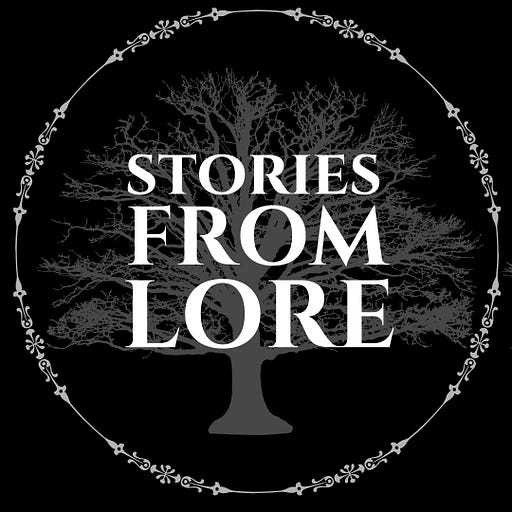 Nov 15, 2021 • 44M
Season 3 Episode 1: Beneath The Snowy Thorn - The Folklore Of Hedgerows
Merry Met virtual traveller and welcome to Stories From Lore. A monthly podcast that invites you to 'Rewild Yourself Through Story,' by exploring nature, folklore and the stories it inspires. My name is Dawn Nelson and I am an author and professional storyteller.
Merry Met virtual traveller!
It's here! It's finally here! Season 3 has arrived and the podcast has had a bit of a makeover. I really hope you will like the new format which includes me taking you on a ramble, singing and of course lots of folklore and a story.
For this episode patrons chose, 'Beneath The Snowy Thorn'  and so I'm taking you on a tour of  my local hedgerows, singing the ballad of Thomas De Rhymer, talking about the folklore of the flora and fauna of UK hedgerows and telling the story of Yallery Brown.
On occasion there are dark folkloric characters explored in this podcast and so, as always,  I would recommend that you should listen through first before listening with younger members of your household.
To 'Rewild Yourself Through Story', join me on patreon for digital zines, a book club, audio stories, previews, earlier extended versions of this podcast and online workshop.
For more stories woven with folklore and the old ways you can find me via the following channels:
www.facebook.com/ddstoryteller
www.instagram.com/dd_storyeller
References
Books
Binnet, Ruth (2011) Amazing & Extraordinary Facts: The English Countryside, David & Charles, Devon.
Bird, Jerry (2009) Landscape of Memory, Green Magic, Somerset
Dent, Susie (2018) Brewers Dictionary of Phrase & Fable (29th Edition), Brewers, Edinburgh
Lenihan, Eddie (2003) Meeting The Other Crowd, Gill Books, Dublin.
Mason, John et al (1962) The Shell Country Book, Phoenix House, London
Purkis, Diane, (2000) Troublesome Things: A History of Fairies and Fairy Stories, The Penguin Press, London.
Russell et al (1973), Folklore. Myths & Legends Of Britain, Reader's Digest.
Simpson, Jaqueline & Roud, Steve (2000) A Dictionary of English Folklore, Oxford University Press, Oxford.
Struthers, Jane (2009) Red Sky At Night: The Book Of Lost Country Wisdom, Ebury Press, 
Websites:
The Hedonistic History of Interesting Ivy - http://from-bedroom-to-study.blogspot.com/2012/12/the-hedonistic-history-of-interesting.html
Music Attribution:
Intro & Outro Music: Midnight Tale by Kevin MacLeod (incompetech.com) licensed under Creative Commons: Attribution 4.0 license http://creativecommons.org/licenses/by/4.0/
Incidental Music: River Song by Alexander Nakarada (www.serpentsoundstudios.com)
Licensed under Creative Commons BY Attribution 4.0 License
https://creativecommons.org/licenses/by/4.0/
Sound Effects via www.orangefreesounds.com