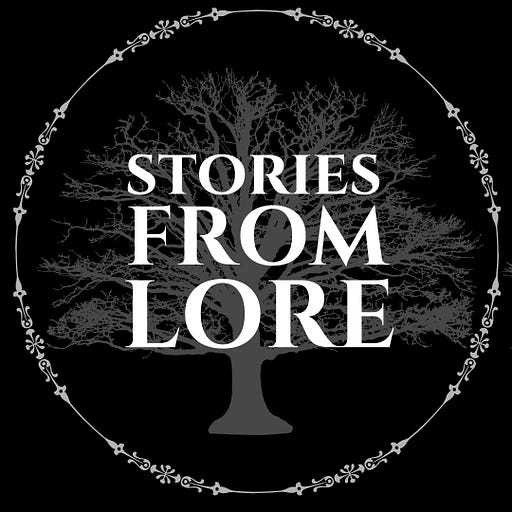 May 6, 2022 • 35M
Season 3 Episode 7: A Fish In The Net - Folklore of Fish And The Sea
Merry Met virtual traveller and welcome to Stories From Lore. A monthly podcast that invites you to 'Rewild Yourself Through Story,' by exploring nature, folklore and the stories it inspires. My name is Dawn Nelson and I am an author and professional storyteller.
Here it is! The seventh episode of Season 3 of the podcast, the last episode of the season but you will be pleased to know I'm already working on Season 4! I know this episode is a little late but last month was a little bit crazy in one way or another. Hopefully this episode finds you well and you will enjoy a little fishy folklore.
This month's theme is 'A Fish In The Net' and for this episode I have some a trip to the beach, the shanty 'When The Boat Comes In' some selected folklore of fish and the story of 'The Fisherman And The Fish'.
On occasion there are dark folkloric characters explored in this podcast and so, as always,  I would recommend that you should listen through first before listening with younger members of your household.
To 'Rewild Yourself Through Story', join me on patreon for digital zines, a book club, audio stories, previews, earlier extended versions of this podcast and online workshop.
For more stories woven with folklore and the old ways you can find me via the following channels:
www.facebook.com/ddstoryteller
www.instagram.com/dd_storyeller
References
Books
Breverton, Terry (2010) Breverton's Nautical Curiosities: A Book Of The Sea, Quercus.
Dent, Susie, (2018) Brewers Dictionary Of Phrase & Fable.
Russell et al (1973), Folklore. Myths & Legends Of Britain, Reader's Digest.
Websites:
Flying Fish - https://en.wikipedia.org/wiki/Flying_fish
What is the story of the Flying Fish - https://procaffenation.com/story-flying-fish/
The Flying Fish Dispute - https://britishseafishing.co.uk/the-flying-fish-dispute/
Authentic Barbados Flying Fish https://www.sandals.com/blog/coucou-and-flying-fish-recipe/#:~:text=Flying%20fish%20is%20a%20type,of%20the%20Bajan%20national%20dish.
Mālolo: the flying fish  -https://www.mauimagazine.net/malolo/
Ainu Legend of the trout that founded the world - https://japanesemythology.wordpress.com/ainu-legend-of-the-trout-that-founded-the-world/
The White Trout - https://emeraldisle.ie/the-white-trout
Fur-Bearing Trout - https://en.wikipedia.org/wiki/Fur-bearing_trout#:~:text=The%20fur%2Dbearing%20trout%20(or,%22shaggy%20trout%22%20of%20Iceland.
A Guide To Koi In Mythology - https://pondinformer.com/koi-mythology/#:~:text=In%20Japan%2C%20koi%20carp%20are,and%20accepting%20death%20with%20courage.
Weird Norfolk  - https://www.edp24.co.uk/lifestyle/heritage/weird-norfolk-storm-witchcraft-kings-lynn-1383266
Folklore Thursday: The Witch Files: Going to Sea in an Eggshell
https://folklorethursday.com/folklife/the-witch-files-going-to-sea-in-an-eggshell/
The Big Five - https://britishseafishing.co.uk/the-big-five-fish-species/
Seasick Fish - https://scienceblogs.com/zooillogix/2009/04/22/seasick-fish
Music Attribution:
Intro & Outro Music: Midnight Tale by Kevin MacLeod (incompetech.com) licensed under Creative Commons: Attribution 4.0 license http://creativecommons.org/licenses/by/4.0/
With thanks for Clare Mansell for production