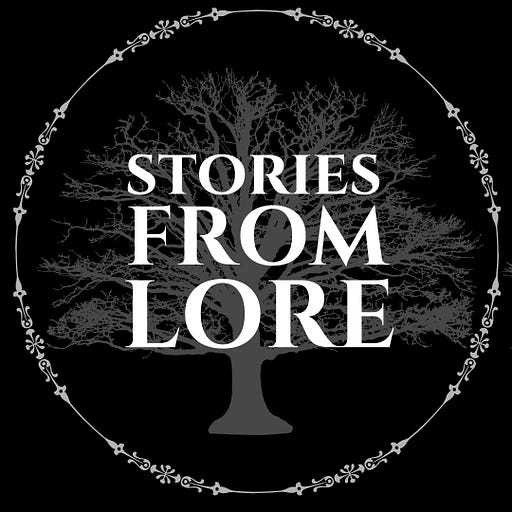 Jul 10, 2022 • 41M
Season 4 Episode 1: The Horned Gods - The Folklore of Stags, Hinds and Deer
Merry Met virtual traveller and welcome to Stories From Lore. A monthly podcast that invites you to 'Rewild Yourself Through Story,' by exploring nature, folklore and the stories it inspires. My name is Dawn Nelson and I am an author and professional storyteller.
Welcome to Season 4 and the first theme for this season is 'The Horned Gods'. In this episode I explore the prince of the forest, the stag and its associated folklore, gods and mythology. 
On occasion there are dark folkloric characters explored in this podcast and so, as always,  I would recommend that you should listen through first before listening with younger members of your household.
To 'Rewild Yourself Through Story', join me on patreon for digital zines, a book club, audio stories, previews, earlier extended versions of this podcast and online workshop.
For more stories woven with folklore and the old ways you can find me via the following channels:
www.facebook.com/ddstoryteller
www.instagram.com/dd_storyeller
References
Books
Barber, Richard (1992) Bestiary: MS Bodley 764, The Folio Society
Borges, Jorge Luis, (2002) The Book Of Imaginary Beings, Vintage Books, London
Dent, Susie, (2018) Brewers Dictionary Of Phrase & Fable.
Monaghan, Patricia, (2014) Encyclopedia of Goddesses & Heroines, New World Library, California. 
Nozedar, Adele (2010) The Illustrated Signs & Symbols Sourcebook: An A to Z Compendium Of Over 1000 Designs, Harper Thorsons, London.
Russell et al (1973), Folklore. Myths & Legends Of Britain, Reader's Digest.
Websites:
Forest law by Jane Winters, Institute of Historical Research
 https://earlyenglishlaws.ac.uk/reference/essays/forest-law/
Commoners & Commoning https://www.new-forest-national-park.com/commoners-commoning/
Deer Species - The British Deer Society https://bds.org.uk/information-advice/about-deer/deer-species/
Gundestrup caldron - https://www.britannica.com/topic/Gundestrup-Caldron
Cernunnos - https://www.britannica.com/topic/Cernunnos
The Legend of Sadhbh - https://stairnaheireann.net/2016/03/17/the-legend-of-sadhbh/
Deer Mythology & Folklore - https://treesforlife.org.uk/into-the-forest/trees-plants-animals/mammals/deer/deer-mythology-and-folklore/
Black Spot - Netflix - https://www.netflix.com/gb/title/81079046
Music Attribution:
Intro & Outro Music: Midnight Tale by Kevin MacLeod (incompetech.com) licensed under Creative Commons: Attribution 4.0 license http://creativecommons.org/licenses/by/4.0/